Air Ventilation & Purification Systems Experts
In Wilmington, NC
Keeping your home air clean should be a top priority but most of us take this for granted. We then wonder why we have sinus problems, trouble breathing, chronic coughs and increased allergies. This often all has to do with the air that you and your family are breathing daily. Poor air quality can quickly have a serious impact on your health and your wellbeing. It can be particularly dangerous for young children.
That's where we come in. We are the experts in air ventilation & purification that you need to improve the environment in your home. We won't rest until we heal your home and ensure that it is providing you and your family with the highest air quality that will keep you healthy.
We offer the latest in air ventilation and purification technology. The equipment we provide has been tested and perfected to guarantee that it delivers the maximum benefits in any home or property. It won't fail you and will ensure that your home air is providing a safe environment that you need.
As well as providing the latest equipment, we can install it for you and ensure that it is set up the right way. You won't have to worry about the equipment being in the wrong place or not providing the solution you need throughout the entire property with our installation service. Installing full air ventilation and purifier system can be complex but we have an expert team ready to get you the great air quality you need.
Are you worried about the quality of the air in your home? Perhaps you have been experiencing breathing issues or you have noticed a musty feeling in areas of your home. If so, then contact us today and we can arrange an expert inspection of your home. We'll tell you if there is a problem with your air quality and offer fantastic advice on how to fix it.
For air purification, we use an ultraviolet light which kills the bioaerosols (airborne bacteria, viruses, mold) as it passes through your HVAC system. A single, properly sized UV unit can purify the air in a 2000-square-foot home. UV lights, teamed with photocatalytic oxidation (UV-PCO) purify the air and break down volatile organic compounds (VOC's) into harmless carbon dioxide and water vapor.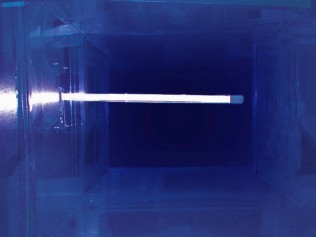 There are various ventilation systems on the market, but none provide the same level of advanced technology as our Humidex Computer Controlled Ventilation systems. As well as lowering levels of moisture, we will make sure that pollutants are completely limited in your basement or crawl space. This helps to keep the air in your entire home fresh and clean, for pennies a day!
You'll find that we are competitive and deliver brilliant value to every homeowner at a fair cost. Regardless of your budget, we're confident that our solution will fit the bill.
Our company is located in Leland, NC. As such, we can provide our solution to homes in Leland, Wilmington, and the surrounding areas. Since we are local, we are able to offer a fantastic turnaround and a rapid response to all inquiries. In no time at all, you can make sure that you are breathing healthy air in your home each day.
Interested in learning more? Contact us today and discover why we are the experts you need.